Distance education: advantages and disadvantages
Distance education, also known as DE, is an online teaching and learning model in which all processes are carried out using available technological resources, including the Internet and various virtual tools that facilitate the transmission of content.
For a variety of reasons, DE is in high demand not only by potential students, who are looking for other ways to learn more about subjects they like, but also by teachers, who are looking for other ways to distribute their knowledge and generate income.
If you would like to know more about this topic, continue with us. Today we are going to talk about the advantages and disadvantages of distance education for both those who want to learn and those who want to teach.
Advantages for students
If you study, and you've gotten this far, you may want to understand better if an EAD course is advantageous to you.
That's why we offer you here 5 reasons why people choose this type of teaching:
Freedom of choice
One of the main reasons why people choose to take an online course is the freedom they have to study what they like best.
Normally, in a traditional classroom, the student has to follow a program of activities. Therefore, even if you are not interested in some topics in a certain area, if you are enrolled in a face-to-face course you will have to go to those classes and follow the whole course program in detail.
Be careful! We all know that if you choose a degree course you will have to comply with all the time requirements to get your diploma. And even if your course is distance learning, you still have to follow a program!
Anyway, we have noticed that people now tend to take free courses, which allow for diverse knowledge and in specific areas. In other words, students can choose exactly what they want to study, what they really like and are interested in.
Autonomy in the schedules
Besides being able to choose what to study, a great advantage of distance education for students is the autonomy to study at the time they want.
In addition, by not having to travel to an educational institution, participants can choose the most suitable time to study.
That is, if you work in the morning, you can do your course in the evening or even during lunchtime. But if you're one of those people who feels more productive in the morning, you also have the option of studying during that time.
Since the course you choose is entirely online, you can organize your study schedule "your way".
Saving time and money
The student who chooses to do an online course can save not only time, since he does not have to travel to attend classes, but also money.
In addition to having to spend on transportation and food, ADL courses are usually cheaper, since teachers do not have to spend too much on materials. This means that distance education is usually much cheaper for the student than a face-to-face course.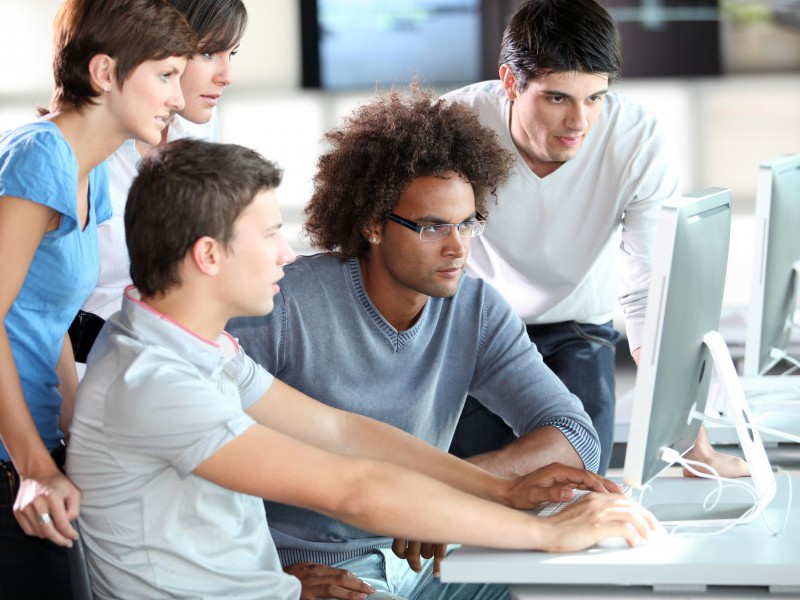 More time spent
Because it is a course that you can carry out at your own convenience, the time you will have to dedicate to your studies can also be superior.
When we do a face-to-face course, the classes are already pre-established with a certain teaching load. That means that you need to divide your attention between different contents, and you have to do your best, and impossible, to dedicate yourself to all of them in the same way. Being late can be expensive!
Already with distance learning it is possible to choose only one topic at a time and, as a consequence, dedicate yourself exclusively to one specific subject for a while. Now you can study each content you choose with more dedication!
Flexibility of location
As the classes chosen are online, the student has the flexibility to study from wherever he wants, as long as he has access to the Internet to view the content offered by the teacher.
In fact, even if you have to travel for some reason, you don't need to miss classes or let content accumulate.
If you are interested in learning more about online courses, here is a Hotmart Tips where Ramón tells you how to sell online classes:
Disadvantages for students
Despite all the advantages of choosing distance education as a mode of study, as well as everything in life, there are also some disadvantages.
Non-fulfilment of the teaching load
One of the great challenges faced by students when they choose distance education is that of fulfilling the teaching load of the online course.
Since it is possible to study the day and time that each one wants, many people leave everything to the end and do not study.
But, as you can see, this is a problem that can be avoided by the student himself. All you have to do is organize your schedule better to be more productive and not postpone learning any longer.
Lack of personal life
It's very easy not to separate your personal life from your academic life, especially if you study at a distance.
Since you don't need to leave your home to go to an educational institution, you may choose to attend your online classes whenever you have a gap in your daily routine.
The problem is that, over time, you may end up forgetting to dedicate a few hours of the day to personal tasks, and that can wear you down, even leading you to drop out of the course.
That's why it's very important that, even though you can study at any time, you try to create a small routine so that you can dedicate yourself to your personal life as well.
One suggestion is to choose a certain period of your day and separate it for studying.
Also, try to choose a room in your house that is quiet and well equipped so that you can watch the classes. That way you won't run the risk of starting to study when you sit in the living room to watch a movie and be distracted by your family.
University degree
Today, several universities already offer distance learning degree courses and students from these institutions receive university certificates recognized by the Ministry of Education.
However, a disadvantage for students who choose free courses is that they are not considered university degrees.
Despite this drawback, most online courses issue certificates that are recognized by various employers, especially if the occupation you are looking for is among the professions of the future, which are usually focused on technology.
Therefore, think about the type of occupation you want to pursue to see if a college degree is necessary or if the online courses you have taken are sufficient to help you with a possible hiring.